Tuesday, November 30, 2010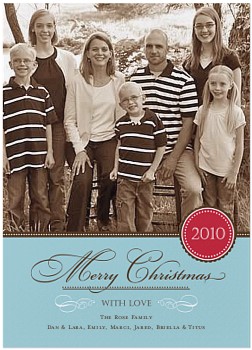 Family Frame Christmas Card

Posted by

Rose Family Editor
at 5:01 PM
No comments:

Saturday, November 20, 2010
Posted by

Rose Family Editor
at 3:35 PM
No comments:

Tuesday, November 16, 2010
Grades 1-3 - ready for reading aloud together.
Boys on one side...
Rebekah -- getting the "tattle tail."
Ready for arithmetic!
Older kids work problems from a book at their desks. They check their own work.
Teenagers teach the rest of the classroom about the Boston Massacre.
Game time -- we divided into two groups and each took a turn dropping the clothespins into the jar. The "Dogs" beat the "Cats." Of course, I was on the winning side (with the boys) and contributed 2 points to our score! Go Dawgs!
And these are mine.
I wonder if this form of discipline would work in my home ... (??!!?)
Lunch at our desks.
Game time outside with homemade darts!
The entire group who reenacted our 1893 one-room schoolhouse day!
A tour of the farm animals -- chicken, geese, pigs (including one in labor), bunnies and horses!
I wish we could afford one of these for her 16th birthday. Sigh.
Preparation for the Boston Massacre lesson in the chilly cloak room.


I thoroughly enjoyed our chance to visit the Quiet Valley Historical Farm in Stroudsburg. It was a fun way to spend time learning about life in 1893 when Grover Cleveland was President. Especially since Jared was just Grover for Biography Dress-Up Night! We enjoyed spending time with the Longacres. But, it meant being loaded and in the car by 7am. Thank goodness Daddy was home and helped me get everyone fed, dressed, and loaded. Glad we don't have to do THAT every day!
We ended our day with the play "Cinderella" put on by our local high school. Awesome and so fun to see how the community showed up to support it -- a sold-out crowd! We especially loved the step-sisters, the black fairy godmother and the steward. The girls didn't believe I would try on the slipper, so I had to prove them wrong. I told the steward it fit, but he retorted, "I don't think so!" He snatched it off my foot and moved on to other women. Sigh.
I slept really well that night!
Posted by

Rose Family Editor
at 4:59 PM
No comments:

Friday afternoon included a quick stop to meet Elliot!! Oh my word, it was heaven to be able to hold him, smell him and kiss him!!! Then we were treated to scrumptious cupcakes from Katie before packing back into Herbie for the trip home.
Posted by

Rose Family Editor
at 4:17 PM
No comments:

The Scavenger Hunt Masters
Look who can snap his fingers!!!
It was REALLY hard for these two not to R U N ... so they could be first :)
Jared was chosen to help the magician!
And then he chose Briella and called me an "Oriental Tourist" because I kept snapping so many pictures!
Monday morning was made much more fun by a trip to Scranton. We headed out at 8:30, found a quick parking place by feeding the meter ALL of our quarters. Titus explained this to an elderly man crossing the street. He gave Titus a quarter! He was 85 and so sweet :). The tour began by dividing us into four teams of different colors. The green team included all the Roses (except Emily & Briella) and the Elys. We had a blast going up and down that master staircase. I guess that made up for me turning around at Bill Bayne's this morning instead of making it to the top of the hill ;). And, we won the coupons for free Applebee Kid's meals ... which we plan to save for our cross-country trip at Christmas.
Monday afternoon was spent doing history, art, music and working on the research paper for the electric car. I have good motivation to keep up on my blog now -- a worthy excuse for letting the kids tend to the housework :). Unless, of course, they want to blog ... and gain tally marks!! (Hint, hint.)
Posted by

Rose Family Editor
at 4:06 PM
No comments: